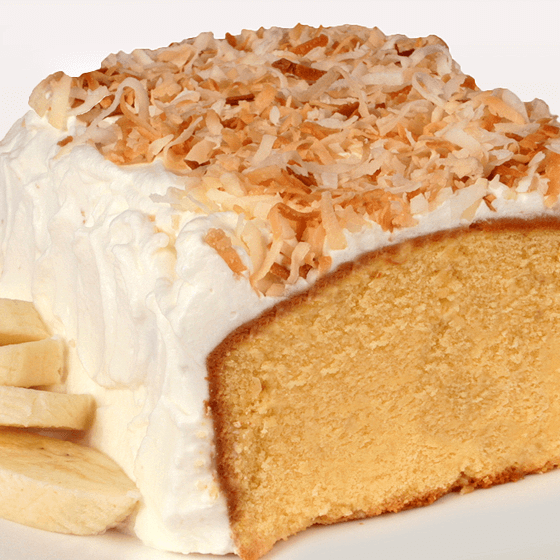 Ingredients:
1 (10.75 ounces) package Sara Lee® Frozen Pound Cake thawed
1-1/2 cup heavy whipping cream divided
1/2 cup sweetened condensed milk
1/2 cup coconut milk
2 tablespoons sugar
1/2 teaspoon vanilla extract
1/2 cup toasted coconut
sliced bananas (optional)
Directions:
Remove lid; leave pound cake in aluminum pan. Using a long skewer, poke holes into cake every 1/2-inch, wiping skewer occasionally, if needed.
Combine 1/2 cup of the whipping cream, condensed milk and coconut milk in a 2 cup measuring cup or medium bowl; mixing thoroughly.
Pour 1/2 cup of milk mixture over cake; allow to absorb into cake.
Add remaining milk mixture, 1/2 cup at a time, allowing to absorb into cake each time.
Refrigerate 2 hours or overnight to allow milk mixture to absorb into cake.
Beat remaining 1 cup whipping cream, sugar and vanilla in a chilled mixing bowl on medium speed until soft peaks form.
Remove cake from pan; discard any excess milk in pan.
Place on a serving plate.
Frost top and sides with whipping cream.
Sprinkle top with toasted coconut.
Cut into 8 slices. Serve with banana, if desired.