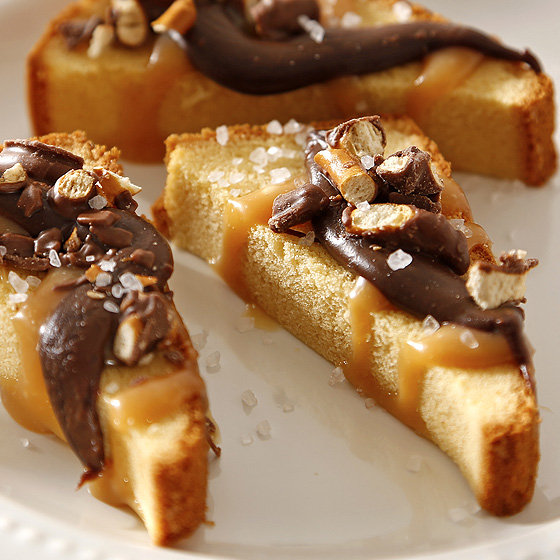 Ingredients:
1 (16 ounce) package Sara Lee® Frozen Pound Cake, thawed
20 caramels, unwrapped
1/2 cup heavy whipping cream, plus
1 tablespoon heavy whipping cream
1/8 teaspoon cream of tartar
1/4 cup milk chocolate chips
8 chocolate covered pretzels, broken into small pieces
1/2 tablespoon coarse sea salt
Directions:
Cut pound cake into 10 slices. Cut each slice diagonally in half forming 20 triangles. Place on parchment or waxed paper.
Place caramels, 1/2 cup whipping cream and cream of tartar in top of a double broiler pan or large metal bowl. Place over a pan of simmering water. Cook and stir until caramels are melted and sauce is creamy.
Combine chocolate chips with remaining whipping cream in a small sauce pan; cook and stir until chocolate is melted.
Spoon about 1 tablespoon caramel sauce over each pound cake triangle. Drizzle with chocolate sauce. Break up pretzels and sprinkle over top of caramel-chocolate sauce. Sprinkle each slice with sea salt. Serve immediately or refrigerate until set.